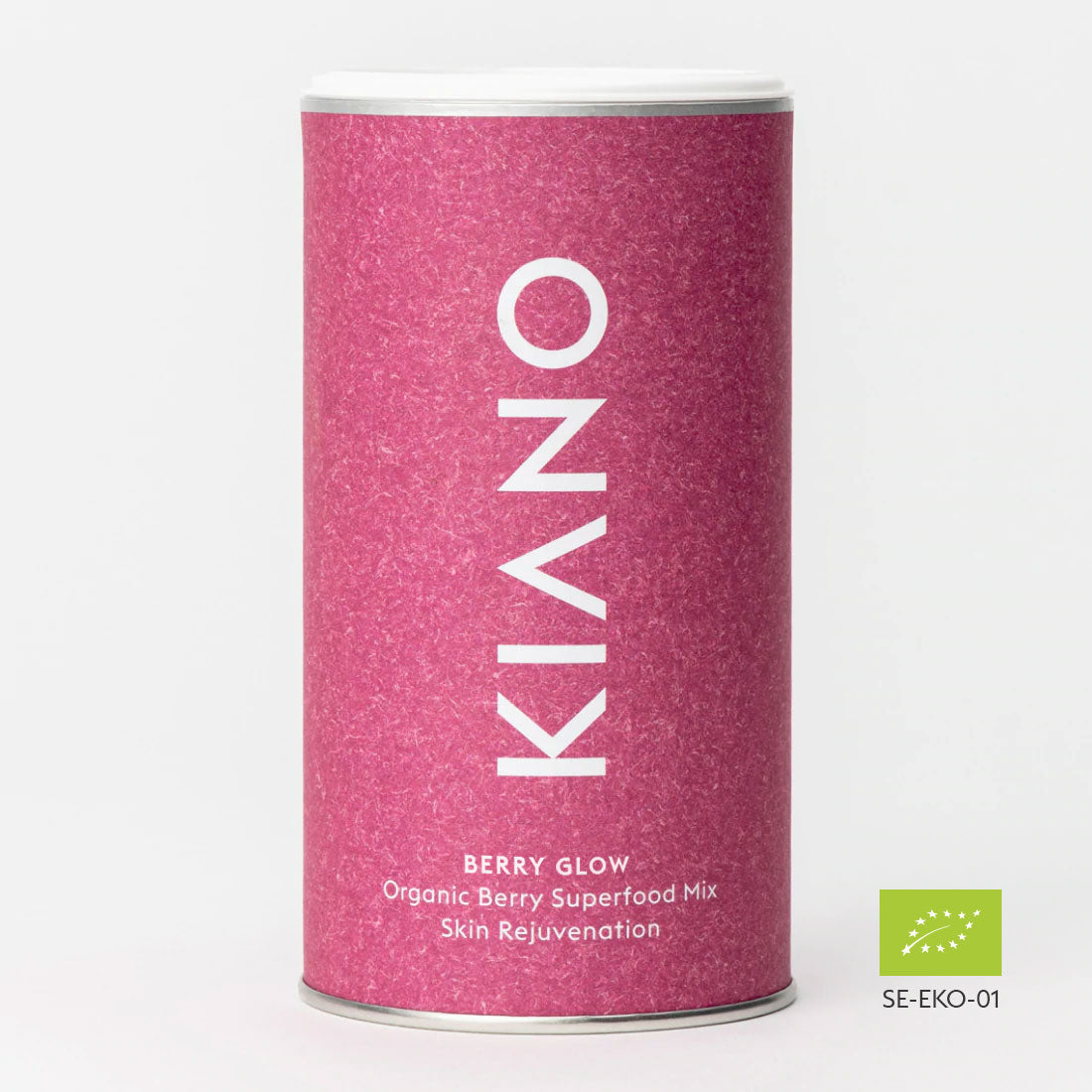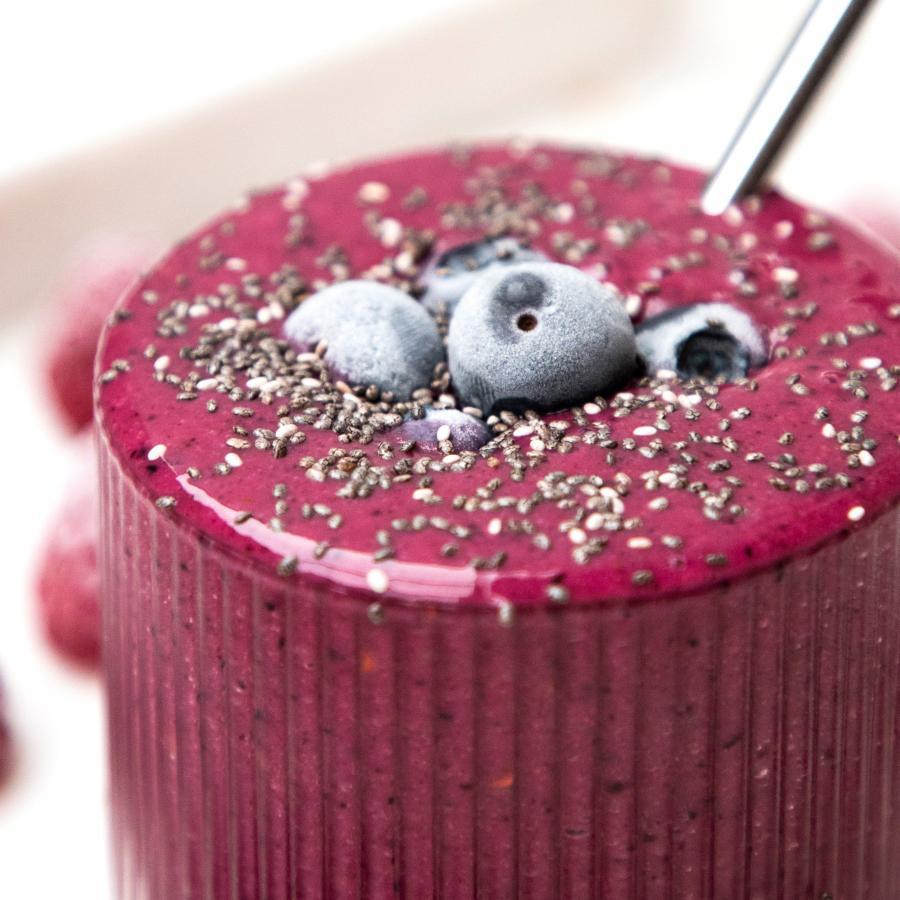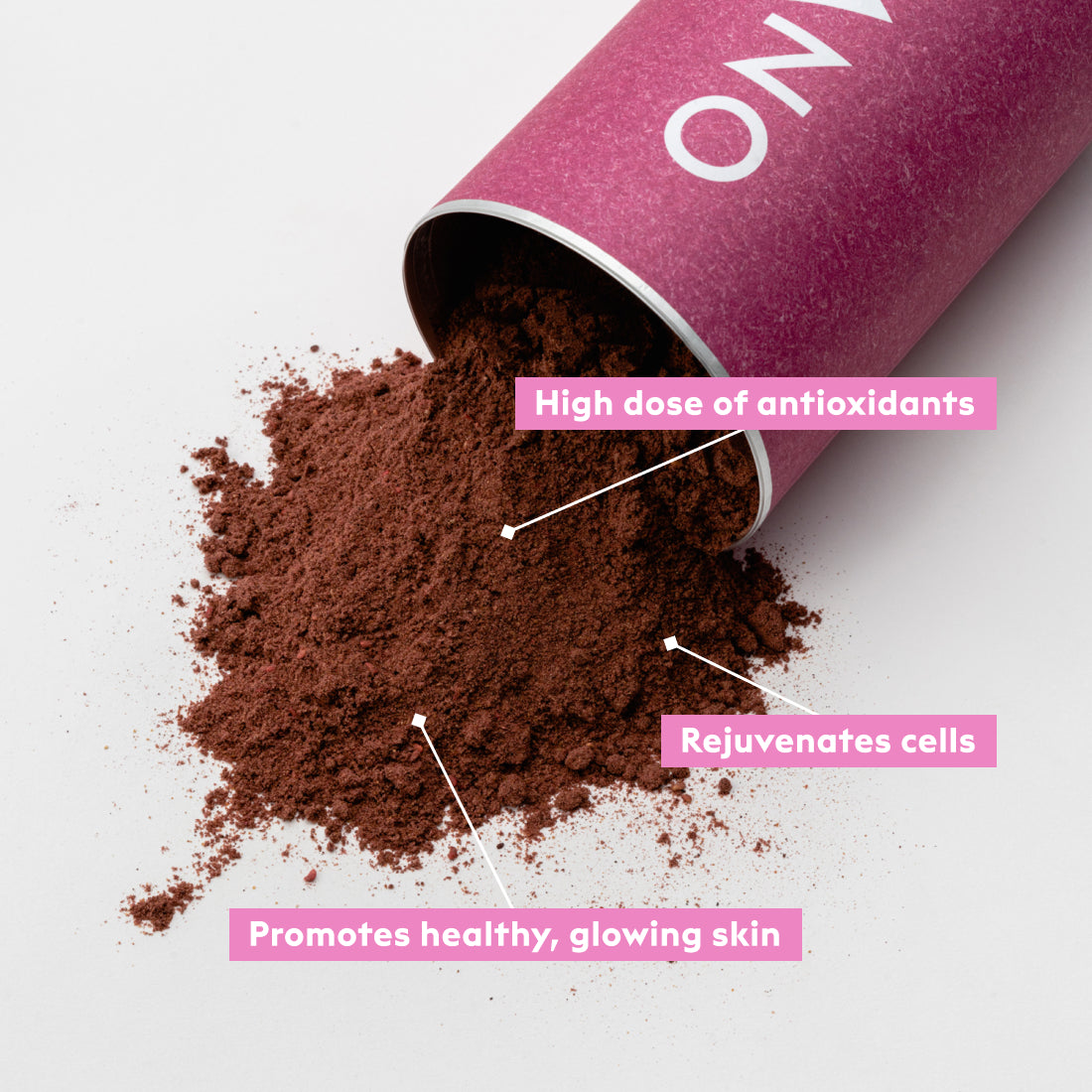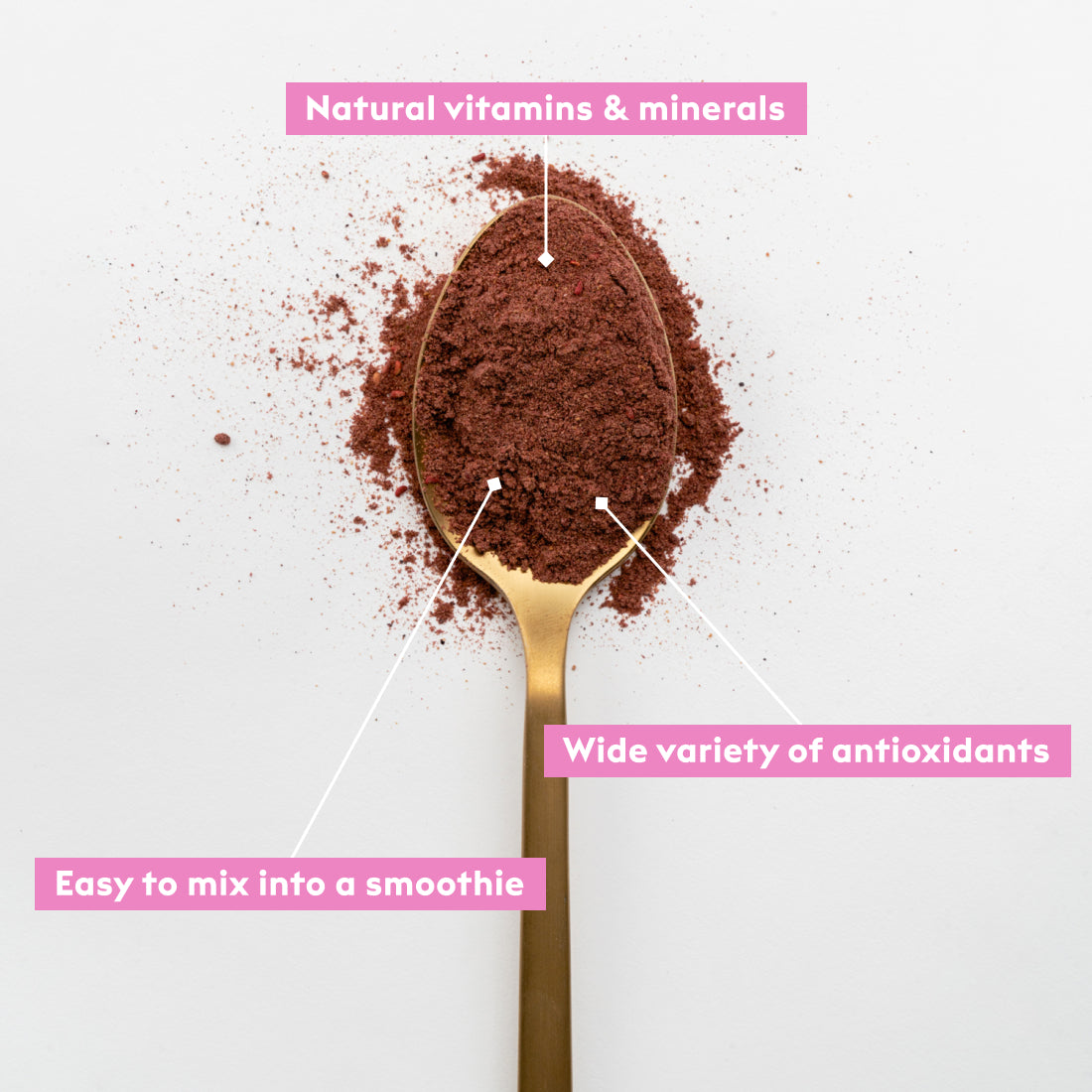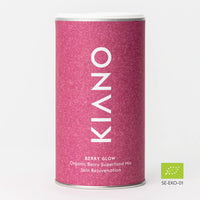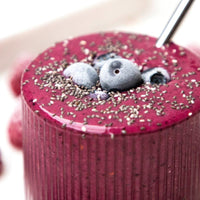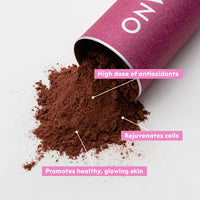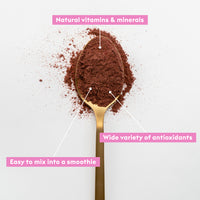 Super Berry Mix for Beautiful, Healthy Skin
Berry Glow - Organic Superfood Smoothie Mix, 240g
30 servings
Meet your new natural replacement for the everyday multi-vitamin pill. Our premium berry blend with 8 superfood berries provides you with all 13 essential vitamins. This mix boosts the amount of antioxidants in your body, helping the skin and organs in the body to defy ageing. Incorporate this mix into yours and the familys daily routine to maximise optimal health.
A Powerful Berry Blend for the Whole Family Containing all 13 Essential Vitamins
One portion equals a generous bowl of fresh berries

Designed to improve skin health

8 superfood berries - all 100% organic

Including: acai, blueberry, rosehip, raspberry

Clean-tasting, natural sugars, no artificial additives 

Rich in antioxidants, protecting against cell damage

Rich in vitamins C, A, K and potassium

Shake with water, plant-milk or add to a smoothie

Servings per container: 31 (8 grams per serving)
What is Berry Glow superfood good for?
Are you into beautiful, healthy & glowing skin? We sure are! We've carefully created the perfect skin boosting blend with powerful superfood berries for supporting your general health and to boost skin rejuvenation. The broad range of antioxidants in this organic superfood mix helps your body to fight free radicals, lower inflammation and protect against cell damage. Free radicals cause damage and premature ageing of our skin and can also lead to disease. Berries have been associated with being beneficial for heart health. These include lowering blood pressure and cholesterol, while reducing oxidative stress. So let's fight free radicals every day and help our skin stay young and our bodies healthy! 

Why choose KIANO's Berry Glow superfood blend?
Attention beautiful beings! We've created an organic, vegan, delicious and highly nutritional berry powder for your skin's benefit. Our berry superfood mix does not contain artificial vitamins, minerals, flavourings, colourings, emulsifiers and fillers. This berry superfood blend includes only natural, plant-based vitamins, minerals and antioxidants. These natural plant-compounds are much more bioavailable to the body than synthetic, therefore more effectively absorbed by the body. Our powerful berry blend will help support skin health and assist your cells to literally become younger, from the inside out. 

What does our organic superfood powder contain?
Berrylicious contains 8 superfood berries: acai, aronia, blueberry, raspberry, strawberry, blackcurrant, rosehip & cranberry. Each serving of our  Berrylicious organic superfood blend is equal to a generous bowl of berries. These ingredients are essential for excellent skin health, protecting our cells from daily wear & tear - and many other functions in the body. 

All 100% organic:
Acai sourced from Brazil.
Wild Blueberry sourced from Ukraine.
Rosehip sourced from Germany.
Raspberry sourced from Serbia.
Blackcurrant sourced from Poland.
Aronia sourced from Poland.
Strawberry sourced from Poland & Ukraine.
Cranberry sourced from USA.
Apple sourced from EU.
Banana sourced from South America.
Lucuma sourced from Peru.
Beetroot sourced from Ukraine.
--
We endeavour to partner with organic farms that produce the finest organic ingredients from around the world.
How to use Berry Glow powder mix?
Easy! Mix a portion of Berry Glow into water or plant milk, or into a delicious superfood smoothie. Check out our recipes page here for more ideas.
Tip: Start your daily routine with a Berry Glow skin-boosting superfood drink every morning. This mix pairs well with Collagen Kiss & Tropical Balance providing you with the opportunity to address hormone balance and skin health at the same time. Shake all 3 superfood mixes together and enjoy the combined benefits. Helping your body to optimise and balance is an on-going commitment! 

How much Berry Glow superfood blend should you take daily?
1 serving per day (1-2 tsp. / 5g) of Berry Glow superfood powder is enough to achieve the daily intake of antioxidants beneficial for slowing ageing. You can enjoy up to 3 servings per day to maximise the benefits.
Nutritional values per 100g:
Energy: 1387 kJ / 332 kcal
Fat: 2.6 g
- Carbohydrates: 63 g
- Natural sugars 44 g**
Fibres: 18 g
Protein: 5.5 g
Salt: 0.12 g
Vitamin A: 69 ug / 12%*
Vitamin B6: 0.2 mg / 17%*
Vitamin B9: 71 ug / 36%*
Vitamin C: 197 mg / 246%*
Vitamin E: 2.6 mg / 22%*
Vitamin K: 15 ug / 21%*
Potassium: 1132 mg / 57%*
Calcium: 131 mg / 16%*
Magnesium: 92 mg / 33%*
Iron: 3.2 mg / 23%*
Phosphorus: 123 mg / 18%*
*Daily Reference Value **From berries and fruits
Would you also like this?
Berry Glow Key Ingredients
Acai
Acai has extremely high antioxidant levels, making it great for overall skin care.
Blueberry
Blueberry nutrition can help heart health, bone strength, skin health, blood pressure & diabetes management.
Rosehip
Rosehip helps the immune system to fight off foreign invaders and out of control cells. Also facilitates fat metabolism.
Lucuma
Lucuma encourages cell repair and growth, visibly improves skin tone and reduces fine lines and wrinkles.
Raspberry
Raspberries provide potassium, essential to heart function, and are proven to lower blood pressure.
Blackcurrant
Blackcurrants prevent viral infections, protect your eyes and skin and boost your memory.
Aronia
Helps protect your skin from harsh outside factors such as pollution which can contribute to wrinkles & aged skin.
Beetroot
Beetroot acts a great blood purifier, which is key in keeping your skin glowing and healthy.
Any questions we haven't answered?
Berries are not only delicious, they also contain a big amount of antioxidants that are effective at stabilizing the molecules in our bodies that cause damage to our skin cells: free radicals. By doing so, they reduce the free radicals' ability to cause signs of aging such as wrinkles and fine lines.
Free radicals cause damage to our cells through oxidative stress. And while a certain amount of oxidative stress is normal, the job of antioxidants is to keep it at a manageable level.
So when you consume berries and other foods that contain antioxidants, you're giving your body the tools it needs to keep oxidative stress to a minimum.
Antioxidants are molecules that fight free radicals in your body.
Free radicals are compounds that naturally occur when your body is going through inner or outer stress, and are part of your body's complex system of keeping itself healthy. However, the free radicals can cause harm if their levels become too high in our bodies, and are linked to multiple illnesses, including diabetes, heart disease, and cancer.
Therefore your amazing body has its own antioxidant defenses to keep the free radicals in check.
Antioxidants are also found in food, especially in fruits, vegetables, and other plant-based, whole foods. Several vitamins, such as vitamins E and C, are also effective antioxidants that help boost your natural antioxidant defence.
Nope! Berry Glow is caffeine free.
Yes! Our powders taste really good with just water.
No, we do not add any sugar. All sugars in our mixes are 100% natural.
Yes, Berrylicious is safe to consume while pregnant or breast-feeding but we advise you to consult with your doctor if you have any concerns or allergies.
Yes!
Our other kid-friendly mixes (without adaptogens) are:
We advise to use half the recommended portion for kids.
We fill our cans by weight and not volume, which means that the cans are not filled to the top. 
Depending on the weight, the cans will be filled to different levels. The cans are also higher in height than the fill level due to the fact that the machinery used to fill them up needs some extra space to be able to fill effectively. 
Also, we don't use any artificial filler or emulsifier ingredients to bulk the powders up, as the intended product is to be pure and clean (and more bioavailable for your body). The amount of grams you receive will always correspond to the total amount of serving sizes listed on the back of each product.