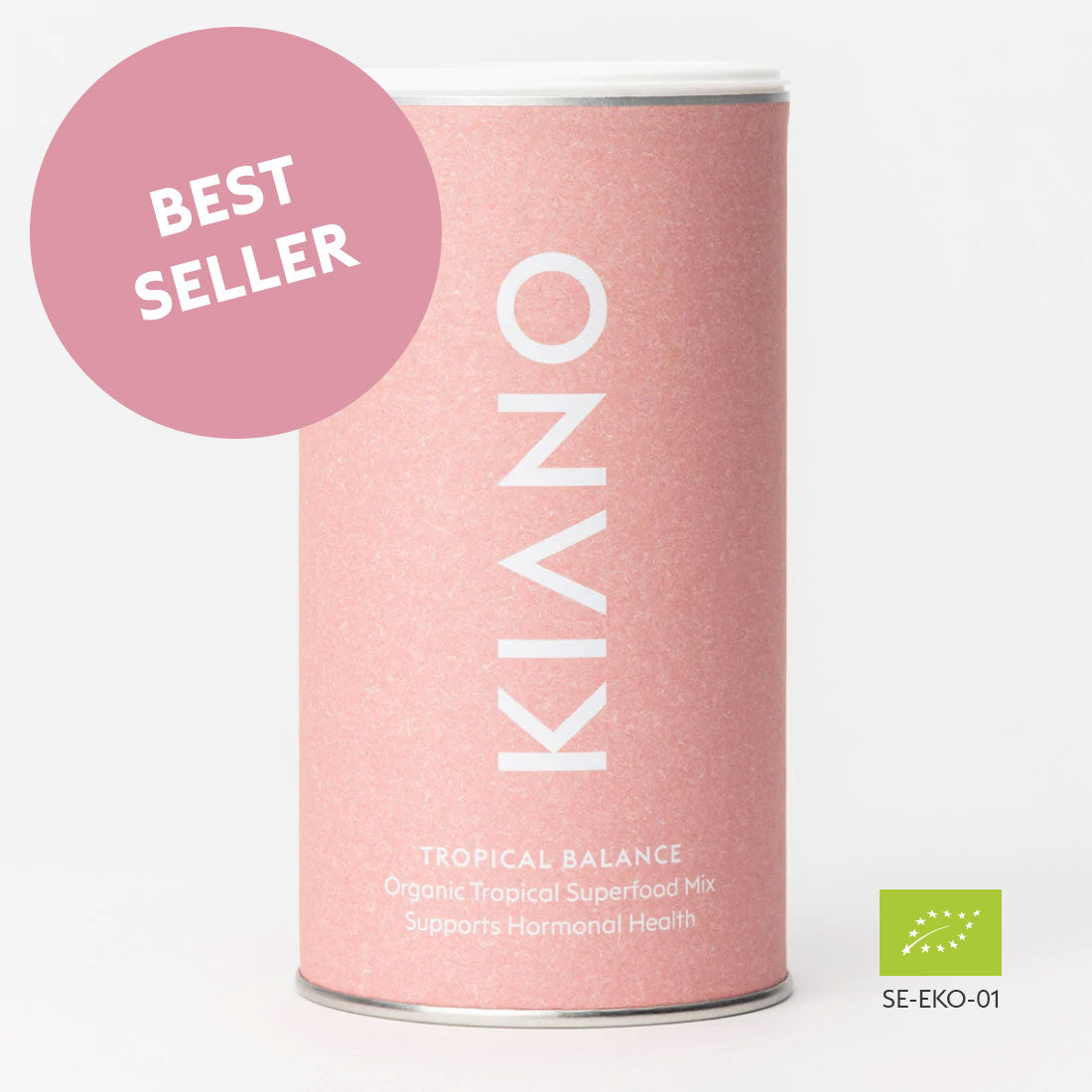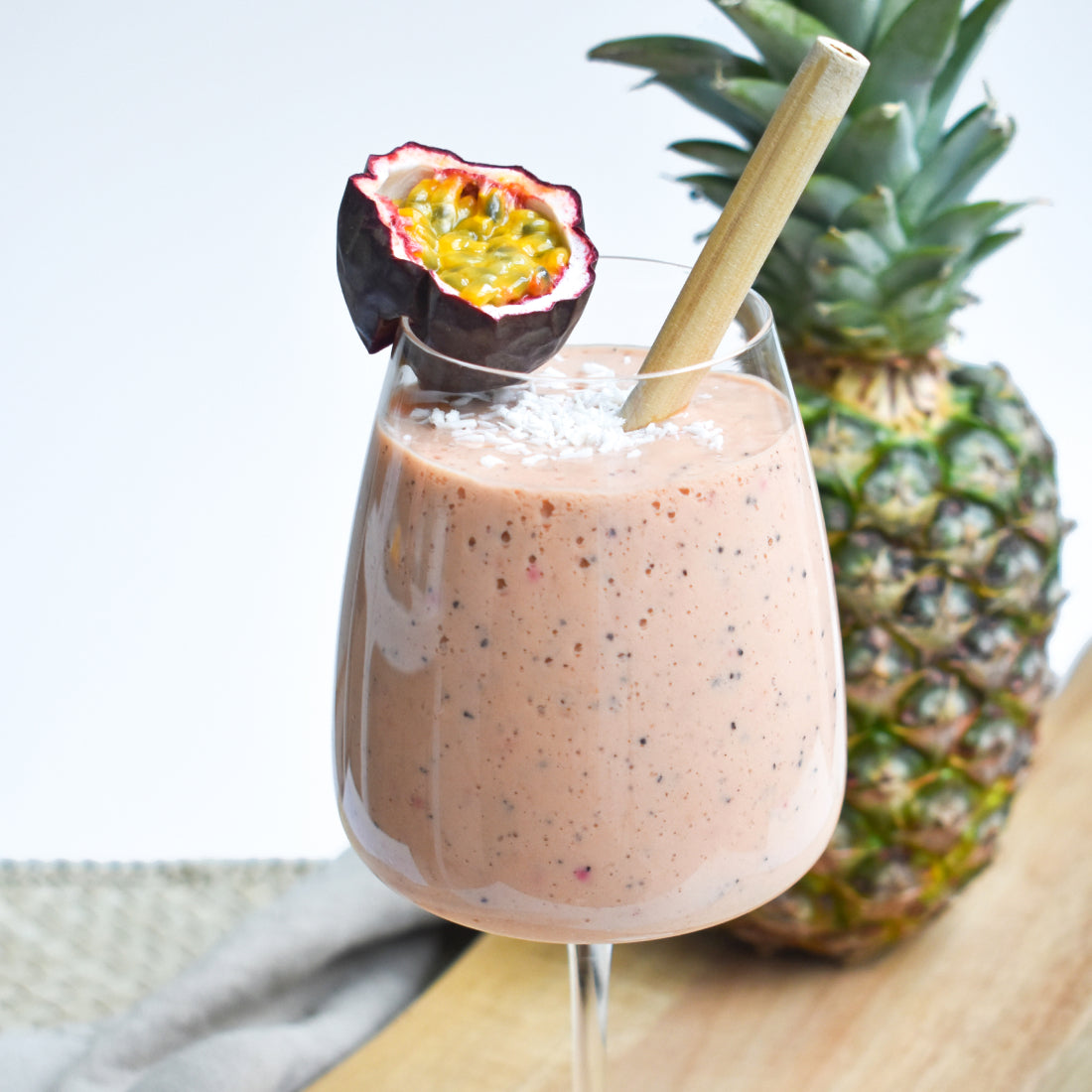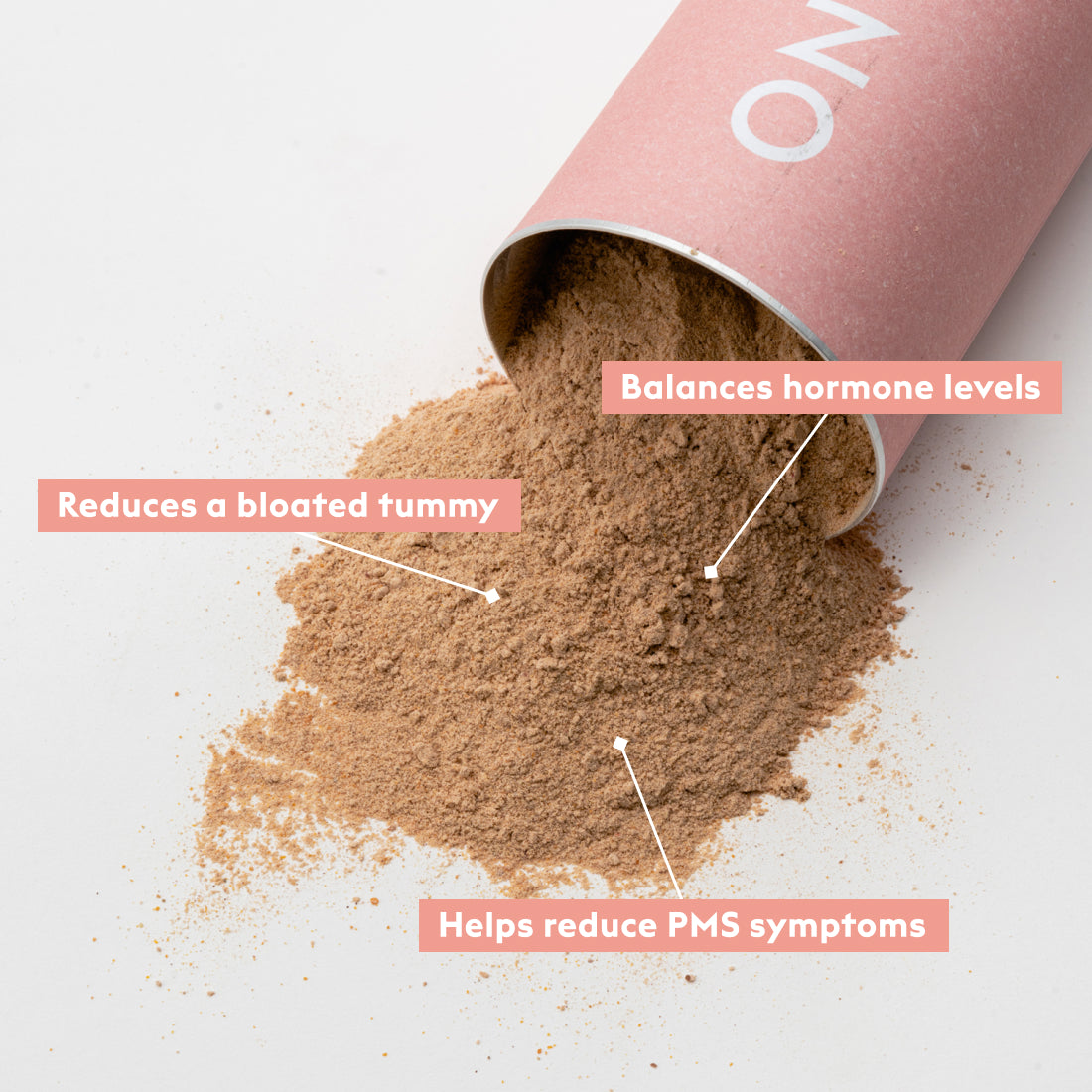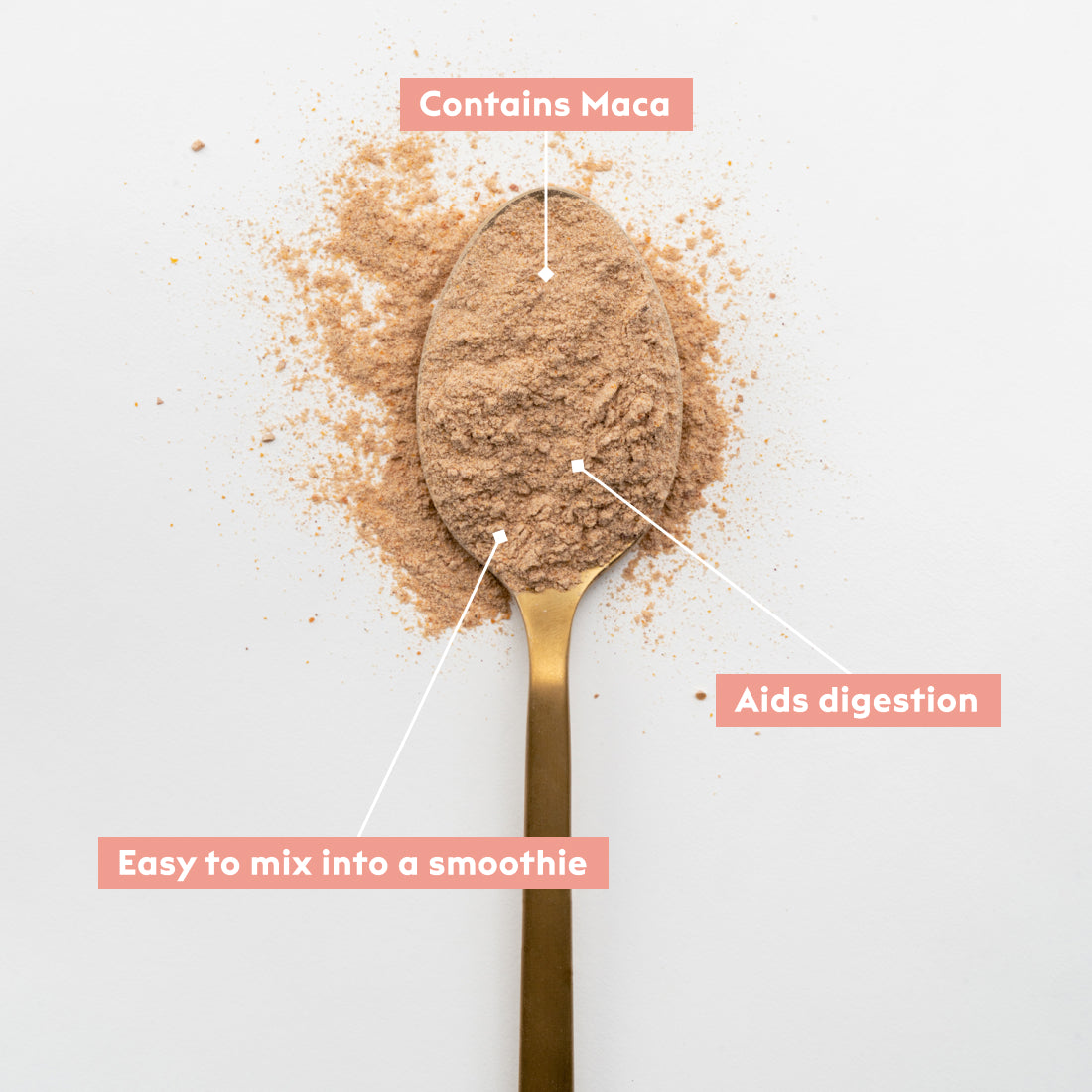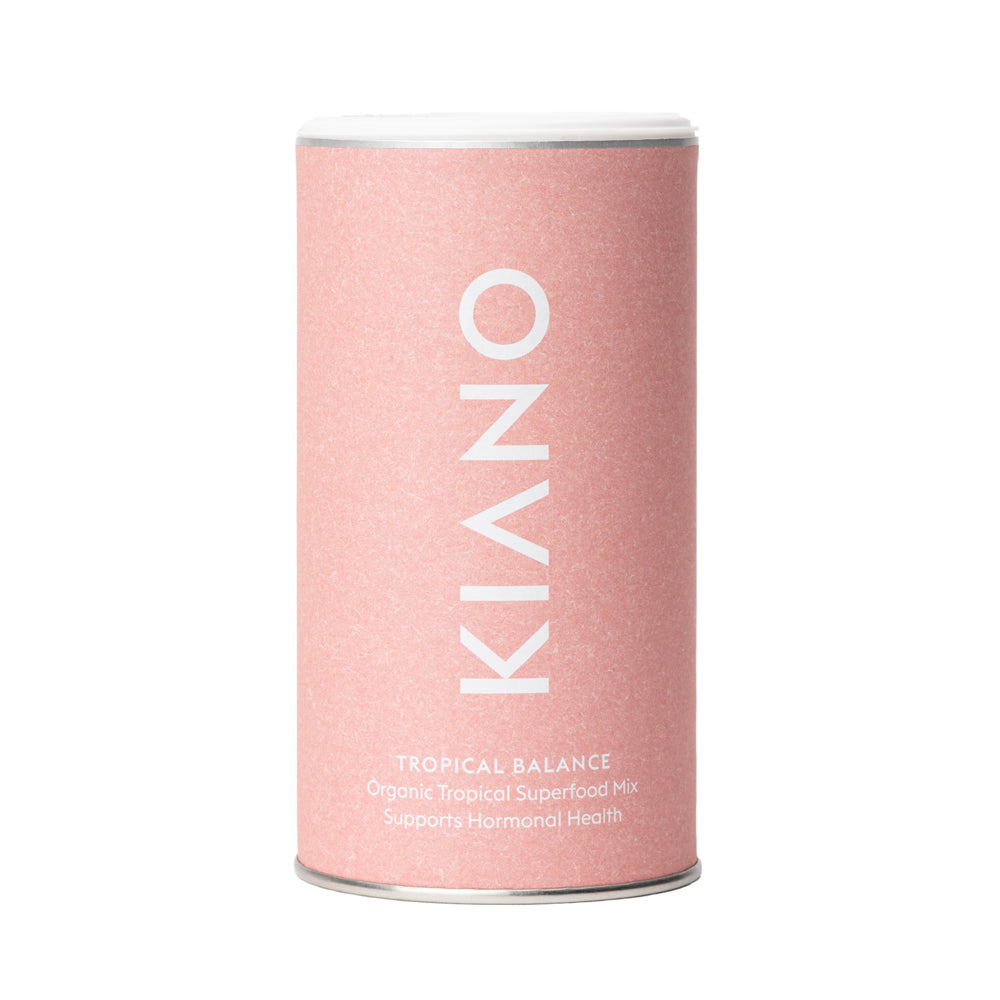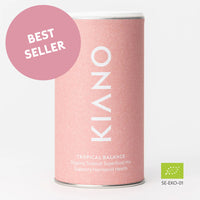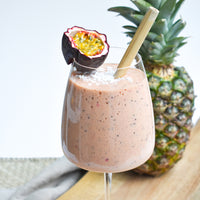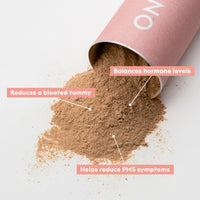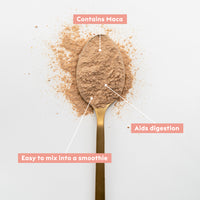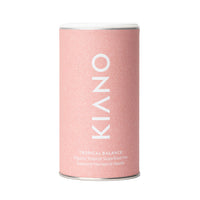 Hormonal Balance & Increased Libido
Tropical Balance, Organic Superfood Smoothie Mix, 250g
31 servings
This popular superfood mix contains maca and amla, assisting the body with hormonal balance in a natural way. This mix is effective for alleviating common problems such as a bloated tummy, PMS symptoms, cramps, hot flashes & skin inflammation. It's also nature's aphrodesiac, increasing libido. Detailed description below.
Superfood blend with 9 berries and fruits designed to help with hormonal imbalances
One portion equals a generous bowl of fresh fruits

Designed to improve hormonal balance

9 superfood berries & fruits - all 100% organic

Including: amla, maca, baobab & lucuma

Clean-tasting, natural sugars, no artificial additives 

Rich in antioxidants, protecting against cell damage

Rich in vitamins A, C, E, K, potassium and iron

Shake with water, plant-milk or add to a smoothie

Servings per container: 31 (8 grams per serving).
What is Tropical Balance good for?
We can't promise that life will always be perfect, but we do promise that we've done our very best to create this powerful blend for female health, including superfood berries and adaptogens to help balance your hormones. This organic superfood powder includes powerful maca and amla berries, together helping to harmonise your body each day of the month.
The broad range of antioxidants in this mix assists your body to increase energy and fight fatigue. This superfood blend provides a natural and nutritional way to help stabilise common issues such as: a bloated tummy, PMS symptoms, cramping, hot flashes, weight gain, skin issues & irritability. Thank you plant power!
Why choose KIANO´s Tropical Balance superfood blend?
Happy healthy days! We've created an organic, vegan, delicious and highly nutritional tropical powder for supporting hormone health. Our organic superfood mix does not contain artificial vitamins, minerals, flavourings, colourings, emulsifiers and fillers. This hormonal balance superfood blend includes only natural, plant-based vitamins, minerals and antioxidants. These natural plant-compounds are much more bioavailable to the body than synthetic, therefore more effectively absorbed and efficient to provide the body with energy. Our powerful and tasty tropical blend will help balance hormones and calm the central nervous system.

What does our powerful Tropical Balance superfood powder contain?
Tropical Balance contains 9 superfoods and adaptogens: maca, amla berry, baobab, lucuma, mango, beetroot, apple and banana. Each serving of our Tropical Balance organic superfood mix is equal to a generous bowl of fruits and vegetables that are powerfully effective for helping to balance hormone health and stabilise blood sugar levels.

All 100% organic:
Baobab sourced from Senegal.
Amla sourced from India.
Gingseng from China.
Shatavari from India.
Lucuma sourced from Peru.
Mango sourced from India.
Banana sourced from South America.
Apple sourced from Hungary.
Beetroot sourced from Poland.
--
We endeavour to partner with organic farms that produce the finest organic ingredients from around the world.
How to use our Tropical Balance powder mix?
Easy! Mix a portion of Tropical Balance into water or plant milk, or mix into a delicious superfood smoothie. Check out our recipes page here for more ideas.
Tip: Start your daily routine with a Tropical Balance drink every morning. This mix pairs well with Berry Beautiful & Collagen Kiss providing you with the opportunity to address hormone balance and skin health at the same time. Shake all 3 superfood mixes together and enjoy the combined benefits. Helping your body to optimise and balance is an on-going commitment! 
How much Tropical Balance superfood blend should you take daily?
1 serving per day (1-2 tsp. / 5g) of Tropical Balance superfood powder is enough to achieve the daily intake of micronutrients beneficial for serving hormonal balance. You can enjoy up to 2 servings per day. 
Nutritional values per 100g:
Energy: 1371 kJ / 328 kcal
Fat: 1.3 g
- Saturated: 0.3 g
- Carbohydrates: 64 g
- Natural sugars: ** 46 g
Fibres: 21 g
Protein: 4.6 g
Salt: 0.19 g
Vitamin B2: 0.2 mg / 17%*
Vitamin B6: 0.5 mg / 42%*
Vitamin B9: 48 ug / 24%*
Vitamin C: 95 mg / 119%*
Potassium: 1241 mg / 62%*
Calcium: 146 mg / 18%*
Magnesium: 58 mg / 21%*
Iron: 3.2 mg / 23%*
*Daily Reference Value **From fruits 
Would you also like this?
Tropical Balance Key Ingredients
Amla
Ancient texts in Ayurveda recommend Amla for improving fertility in women. It flushes out toxins, regulates menstrual cycle and causes hormonal balance.
Maca
Maca can boost energy levels, assist with hormone balance, reduce PMS, relieve menopause, and help maintain healthy bones.
Baobab
Baobab acts as an adaptogen, helping the body recover from stressors and lower cortisol, which reduces stress hormones.
Lucuma
Contains a lot of insoluble dietary fibre. This kind of fibre helps clear waste from the system. Also high in antioxidants.
Any questions we haven't answered?
Hormones influence your mood, quality of sleep, ability to focus, skin & hair health, weight, and cognitive function. Simply put, they're essential for your health.
By simply adding our Tropical Balance mix with it´s powerful, superfood ingredients including Maca, Lucuma and Amla Berry to your diet, this female-focused blend will help to naturally balance your hormones and reduce symptoms of PMS and menopause. All 3 of these life-giving plants help to maintain positive energy and stabilise your mood. Also, they provide relief from mood swings, due to hormonal imbalance.
We consider it safe but recommend that you consult with your doctor first before buying this product - especially if you have concerns around hormonal issues, nutrition or allergies.
Hormones affect everyone in different ways. Mood, quality of sleep, ability to focus, skin & hair health, weight, and cognitive function are just some of the symptoms of a hormone imbalance.
Yes, Tropical Balance can also be used by men!
One of the main ingredients in Tropical Balance is Maca. The roots of Maca have been traditionally consumed by ancient and modern cultures in Peru to boost fertility and sexual health since olden times.
One of the most common old-age problems faced by men is prostatic hyperplasia, which is a condition where the prostate gland is enlarged. Studies have shown, that consuming maca may help in reducing the enlargement of the prostate. Maca is believed to act on androgen receptors in the prostate, thereby preventing the binding up of hormones which leads to prostate enlargement.
We consider it safe if taken in small doses but recommend that you consult with your doctor first before buying this product - especially if you have concerns around hormonal issues, nutrition or allergies.
We recommend not to give this to children due to this mix containing adaptogens.

Our kid-friendly mixes (without adaptogens) are: 
We fill our cans by weight and not volume, which means that the cans are not filled to the top. 
Depending on the weight, the cans will be filled to different levels. The cans are also higher in height than the fill level due to the fact that the machinery used to fill them up needs some extra space to be able to fill effectively. 
Also, we don't use any artificial filler or emulsifier ingredients to bulk the powders up, as the intended product is to be pure and clean (and more bioavailable for your body). The amount of grams you receive will always correspond to the total amount of serving sizes listed on the back of each product.