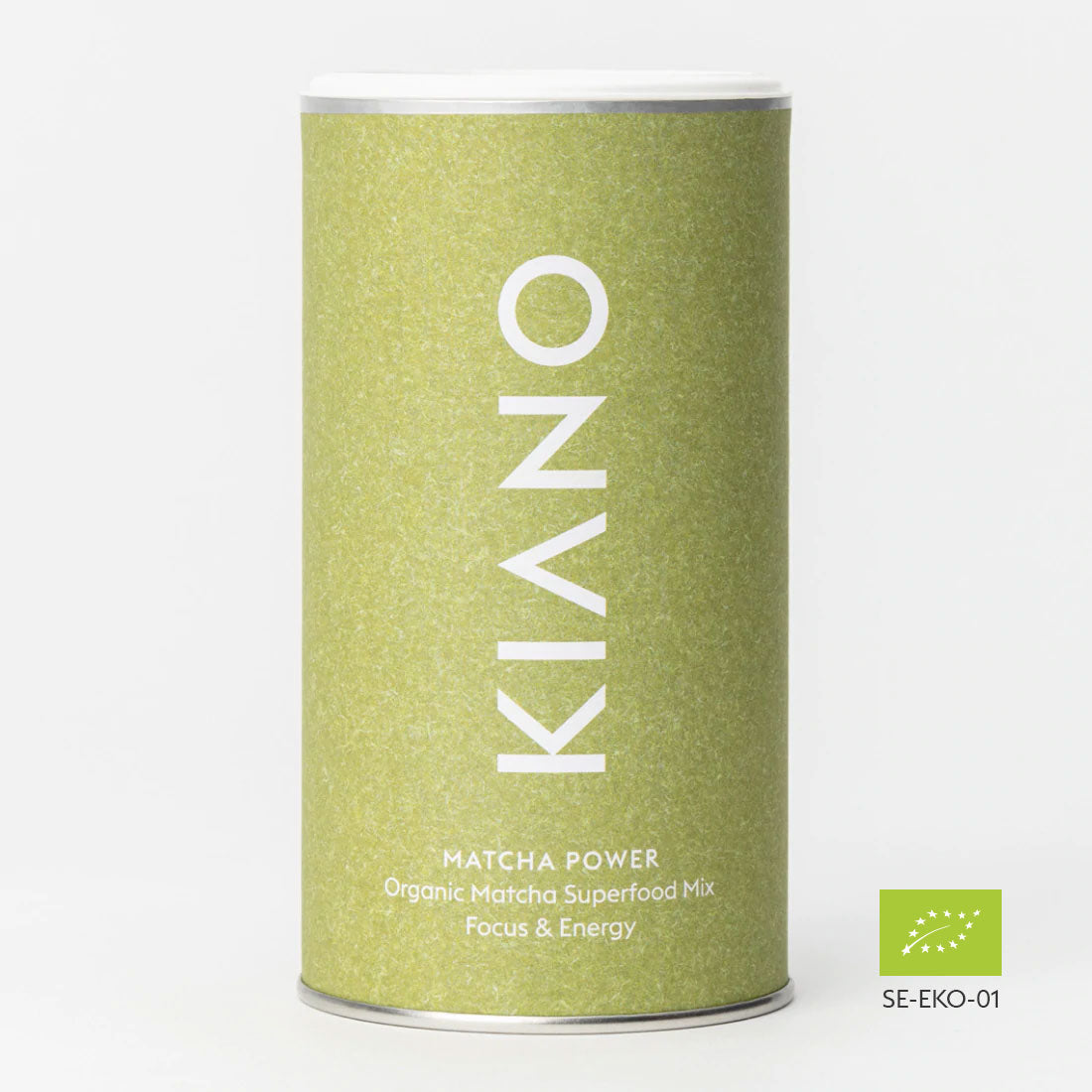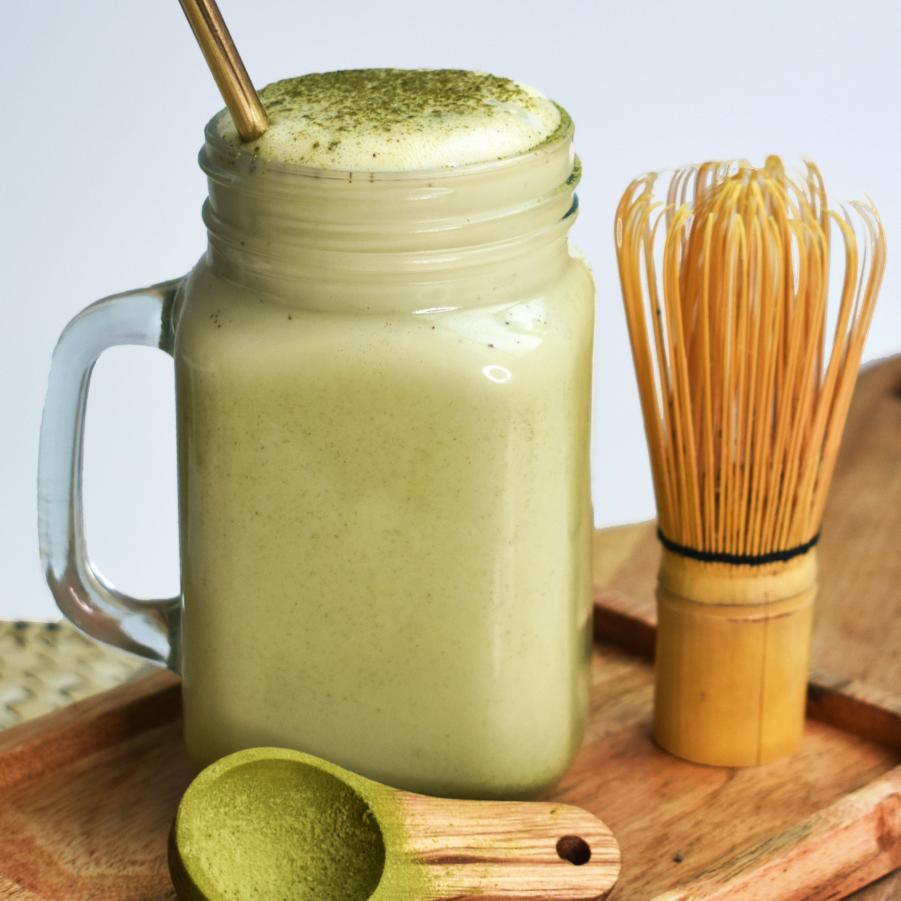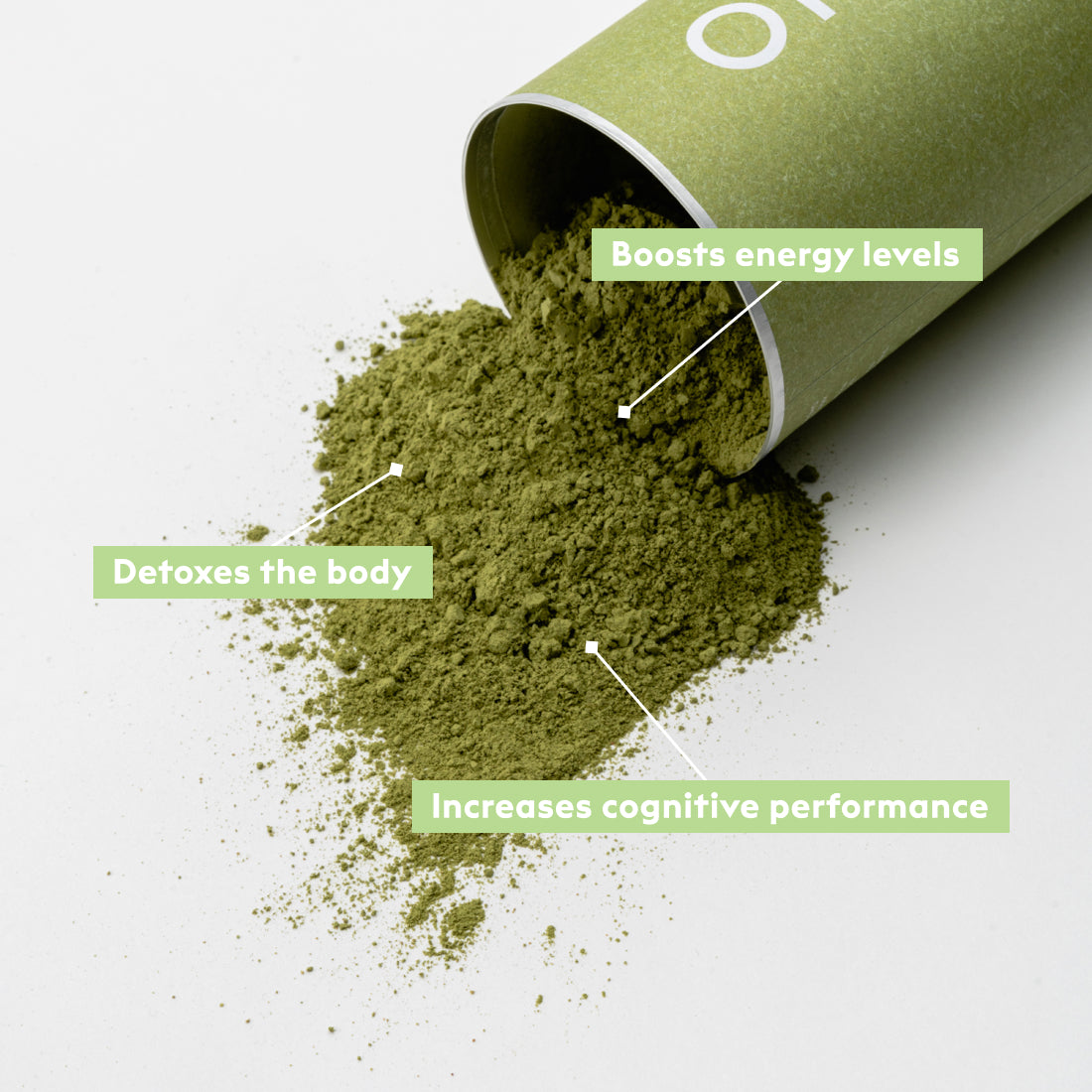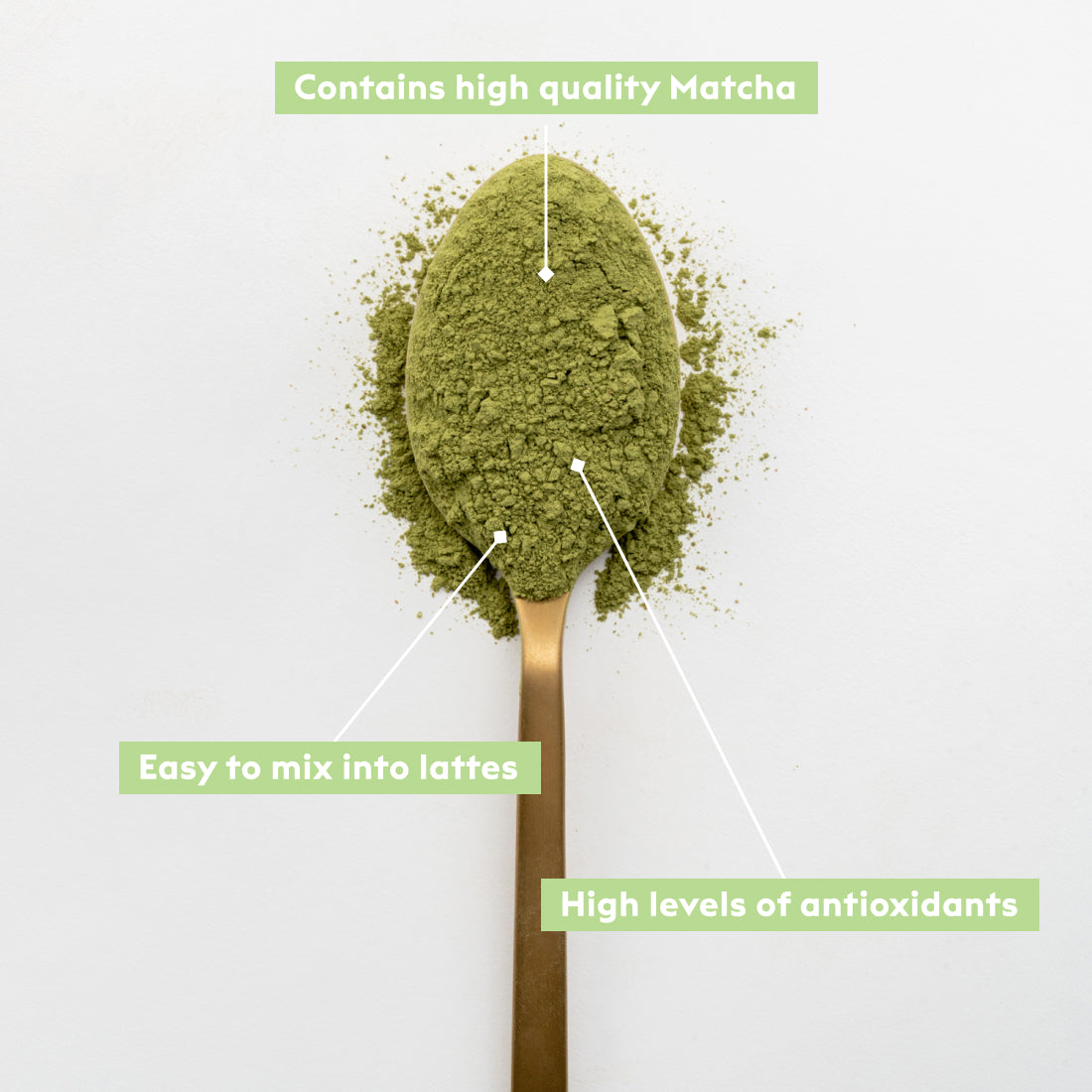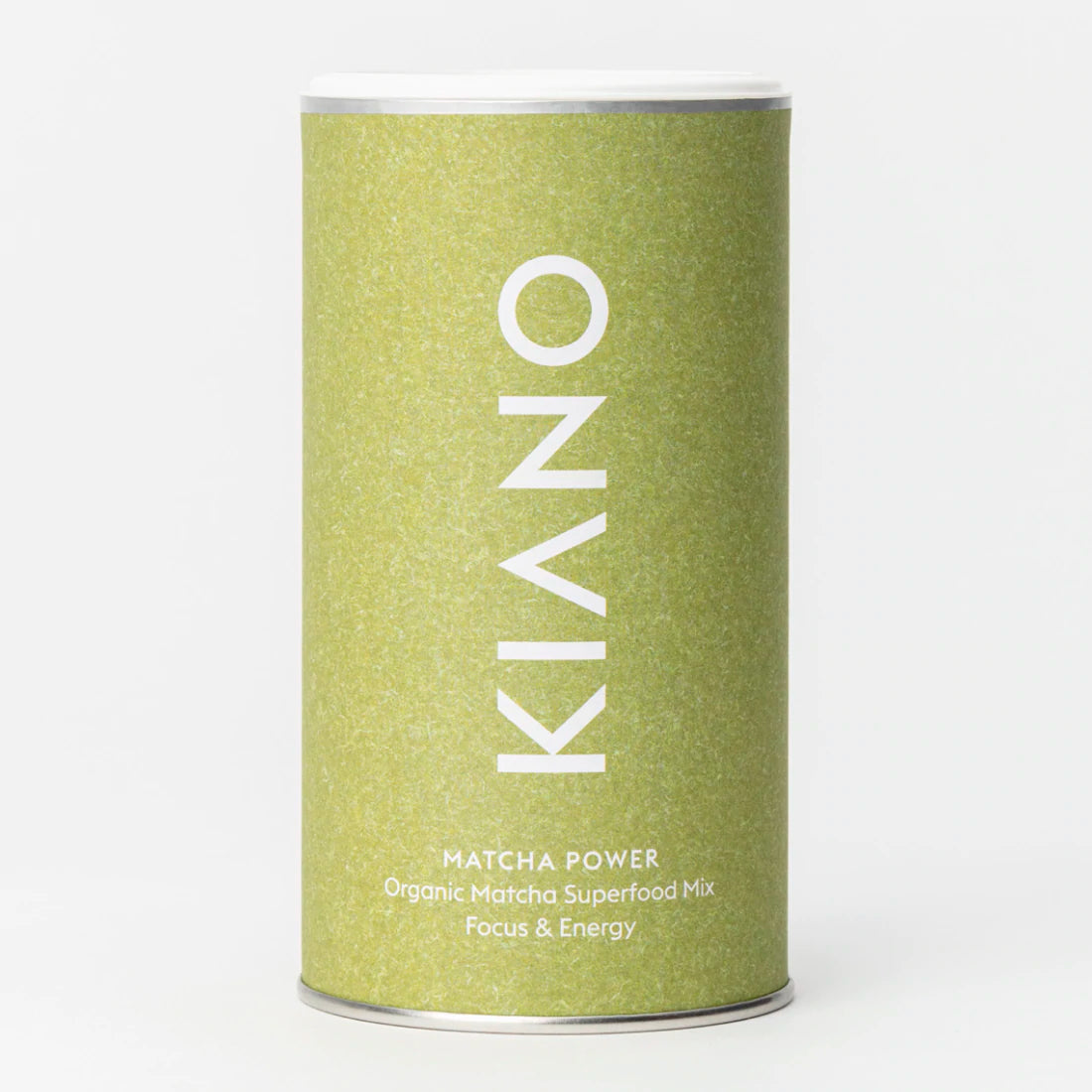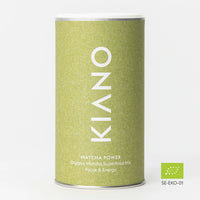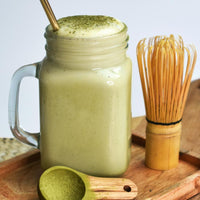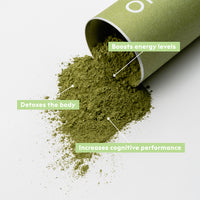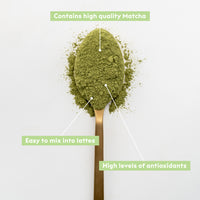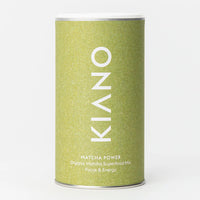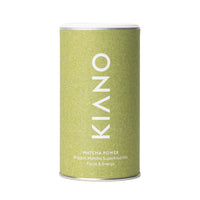 Matcha Latte for Focus & Energy Boost
Matcha Power - Organic Superfood Mix, 200g
40 servings
Our premium Matcha Latte blend includes the powerful adaptogen root Maca. Matcha Power has small amounts of cinnamon and ginger, resulting in a subtle yet flavourful blend. The combo of all these ingredients provide the body a cognitive boost while also a feeling of calm. Detailed description below.
Matcha power will get you focused with a inner calm


Designed to boost energy and get you focused

Provides the body with a mini-detox

6 superfood spices, greens & plants - 100% organic

Including: matcha, ginger & cinnamon

Great tasting, natural sugars, no artificial additives 

Rich in antioxidants, protects against cell damage

Rich in vitamins A, C,K, potassium and iron

Mix with plant milk for a warm or cold matcha latte

Servings per container: 40 (5 grams per serving)
What is Matcha Power good for?
Detox and focus, baby! This blend is designed with powerful superfood green tea powder for supporting an energized and focused mind. Matcha is a powerful plant with high levels of chlorophyll, helping improve liver function which assists the body to flush out toxins. So you can think of Matcha Power as a mini-detox. Matcha contains caffeine, about half that of coffee - helping to keep your mind from being distracted and allowing higher cognitive performance throughout the day. Matcha is an excellent, clean alternative to coffee with high levels of antioxidants supporting skin health and cell rejuvenation.

Why choose KIANO´s Matcha Power superfood blend?
Power into your day! We've created an organic, vegan, delicious and highly nutritional matcha superfood powder to help promote cognitive function and serve the body as a mini-detox. Our matcha superfood mix does not contain artificial vitamins, minerals, flavourings, colourings, emulsifiers and fillers. This organic matcha flavoured superfood blend includes only natural, plant-based vitamins, minerals and antioxidants. These natural plant-compounds are much more bioavailable to the body than synthetic, therefore more effectively absorbed by the body. Our Matcha Power powder has a fine texture, is super tasty and effective for attaining focus.

What does Matcha Power superfood powder contain?
Our Matcha powder contains a mix of 6 powerful ingredients: matcha, barley grass, maca, ginger, cinnamon and dates, together providing you with a tasty organic matcha mix. We have sourced high quality matcha from Japan.

All 100% orgagnic:
Matcha sourced from Japan.
Maca sourced from Peru.
Date sourced from Tunisia.
Ginger sourced from Nigeria.
Cinnamon sourced from Sri Lanka.
--
We endeavour to partner with organic farms that produce the finest organic ingredients from around the world.
How to use Matcha Power powder mix?
Easy! Mix our matcha green tea powder into a hot or iced plant milk latte, or into a delicious smoothie. Check out our recipes page here for more ideas.  
Tip: Start a daily routine to enjoy your Matcha Power latte every morning. Helping your brain to focus and your body to detox is a daily gift to yourself!

How much Matcha Power superfood blend should you take daily?
1 serving per day (1-2 tsp. / 5g) of Matcha Power superfood blend is enough to achieve the daily intake of plant compounds beneficial for cognitive function and focus. You can enjoy up to 3 servings per day. 
Servings per container: 40 (5 gram per serving).
Nutritional values per 100g:
Energy: 1337 kJ / 320 kcal
Fat: 1.9 g
- Saturated: 0.4 g
- Carbohydrates: 46 g
- Natural sugars: ** 25 g
Fibres: 28 g
Protein: 15 g
Salt: 0.05 g
Vitamin A: 4416 ug / 552%*
Vitamin B2: 0.41 mg / 35%*
Vitamin B3: 2.6 mg / 16%*
Vitamin B6: 0.4 mg / 33%*
Vitamin C: 177 mg / 221%*
Vitamin K: 48 ug / 64%*
Potassium: 1540 mg / 77%*
Calcium: 146 mg / 18%*
Iron: 9.8 mg / 70%*
Caffeine: 516 mg
*Daily Reference Value **From fruits
Would you also like this?
Matcha Power Key Ingredients
Matcha
Boosts daily cognitive function such as memory, concentration, attention and motivation.
Maca
Helps build muscle, increase strength, boost energy and improve exercise performance.
Ginger
Ginger benefits brain ageing and inflammation, memory, attention, anxiety and depression.
Cinnamon
Reduces inflammation, improves memory, increases attention, and enhances cognitive processing.
Any questions we haven't answered?
In general the amount of caffeine in one cup of matcha vs. one cup of coffee is about half.
The benefit with matcha is the boost in brain function is more stable and lasts longer rather than an instant hit, then crash.
While we consider it to be safe, it is important to note that this product contains caffeine. We advise to stick to 1 portion per day, no more - and it should be used as a replacement for coffee. We also appreciate that each and every person reacts differently to various foods, plants and ingredients, especially during pregnancy.
We therefore recommend that you consult with your doctor first before buying this product - especially if you have nutritional concerns or allergies.
We fill our cans by weight and not volume, which means that the cans are not filled to the top. 
Depending on the weight, the cans will be filled to different levels. The cans are also higher in height than the fill level due to the fact that the machinery used to fill them up needs some extra space to be able to fill effectively. 
Also, we don't use any artificial filler or emulsifier ingredients to bulk the powders up, as the intended product is to be pure and clean (and more bioavailable for your body). The amount of grams you receive will always correspond to the total amount of serving sizes listed on the back of each product.